Businesses are typically slow to adopt A.I. technologies. Chatbots have not only bucked this trend, but have bridged the gap between businesses and consumers in ways that no other A.I. platform has done before. But with the advancements in A.I. technology and machine learning, do customer service representatives run the risk of being completely replaced by chatbots?
What are Chatbots?
A chatbot is an artificial intelligence program that is designed to simulate communications with customers. Customers can engage directly with chatbots through chat windows, messaging or voice applications.
There are essentially two types of chatbots, Flow chatbots and AI chatbots. Flow chatbots are tree-based models, meaning the user is guided down a pre-determined path defined by a developer. AI chatbots are self-trained, so they can produce backlogs of knowledge according to the information they receive by interacting with customers. Many online customer service platforms have been using chatbots for some time to help manage the volume of phone calls, frequently asked questions, and other common customer service queries.
Why are chatbots important for business?
Chatbots offer a fast and engaging customer experience by providing troubleshooting services, an on-demand help desk and a personal assistant all at the same time. It is more convenient and takes less effort and time for customers to converse with a chatbot. A bot uses artificial intelligence to instantly search through sizable quantities of information and accurately select the most relevant answer for a consumer.
Learn more about the opportunities Chatbots present in this infographic.
Businesses using chatbots can reduce conventional tasks while harmoniously handling various requests from customers. This rapid means of handling customer queries, combined with offering 24/7 support, helps businesses improve customer loyalty.
Chatbots can be embedded into websites, helping to drive conversion rates and create a positive user experience. Juniper Research estimates that a company can save on average 4 minutes per chatbot enquiry when compared with traditional call centres.
Although there are significant business benefits from using chatbots, organisations also have to be mindful of their limitations. Microsoft recently had a PR disaster with their Twitter chatbot Tay, who began mimicking offensive tweets made by other users who were intentionally trying to provoke an inappropriate response. Microsoft shut town Tay in less than 24 hours and issued an apology after facing a backlash on social media. Tay's Twitter adventures show that even massive corporations like Microsoft have needed to learn how to safeguard against these problems.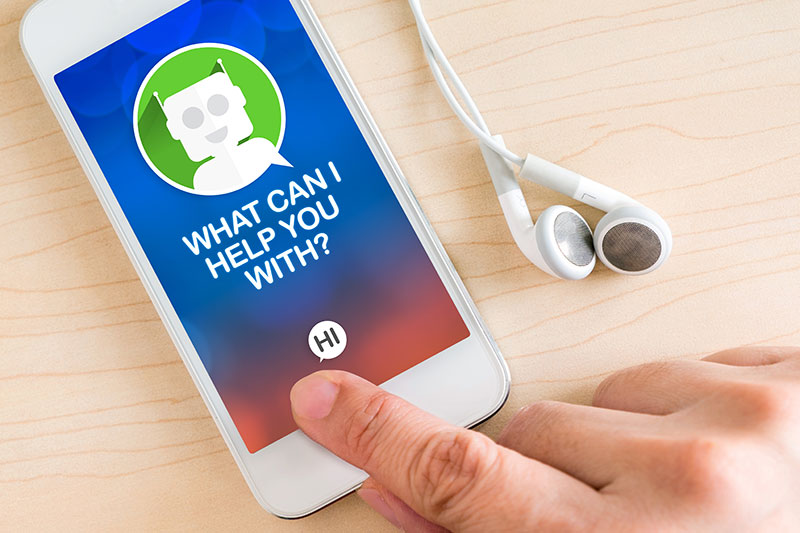 How are brands using chatbots?
Brands such as Starbucks, Spotify and Ebay are using chatbots to improve their customer service. One of the most innovative was developed by Bank of America. The newly launched "Erica" is designed to help customers make smarter money decisions. This chatbot uses artificial intelligence, algorithms and predictive messaging to help customers make payments, check balances, save money and transfer funds. Erica enables users to interact via both text and voice, and uses the information provided to push insights to the customer.
Another brand that has integrated chatbots into their customer service channel is KLM Royal Dutch Airlines. KLM boosted customer interactions by 40% with Facebook messenger. The airline wanted to make conversations between customers and staff easier, without jeopardising privacy. KLM knew that its customers spent a lot of time on Facebook and Messenger, making a chatbot an ideal platform for customer service. Customers are now able to receive booking details, boarding passes and flight updates directly through Messenger. Now KLM receives an average of five messages a minute on a normal day and over eleven messages a minute through Facebook Messenger during busy periods.
Future growth
While chatbots aren't predicted to replace human customer service representatives, a recent study from the technology advisory firm Gartner, has estimated that by 2020, more than 85% of customer service centres will be operated by "bots." We are living in the digital era where consumers expect fast, reliable customer service that is available 24 hours a day, 7 days a week. With satisfied customers and upgraded customer service capabilities, chatbots are meeting the needs of these tech savvy consumers. Not only have chatbots transformed customer service, but the speed of adoption by businesses is an example of how A.I. technology can revolutionise an industry sector overnight.
However, with any digital technology and artificial intelligence, the advantages and constraints of using chatbots are constantly changing as more businesses develop and expand their functionality. As with most A.I. creations, there are noticeable limitations. While A.I. driven chatbots can learn and predict behaviour by interacting with consumers, the lack of emotional intelligence limits the scope and depth of conversation. The effectiveness of chatbots is also limited by the availability of trained staff and their familiarity with this evolving technology. Chatbots can have significant limitations with respect to accents and languages. For businesses in multiple regions, this limitation becomes a critical barrier. Therefore, while organisations will continue to develop and use chatbots for customer service, their use will be limited to performing relatively simple and repetitive tasks, leaving more complex, bespoke communications to humans.