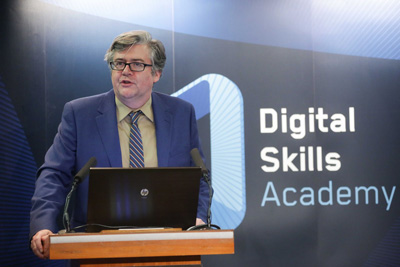 Digital Skills, a leading international organisation delivering high-level cloud-based ICT Degrees and courses for students, post-graduate students, ICT professionals, marketers and business, has opened in Africa.
Digital Skills, headquartered in Dublin's Digital Hub in Ireland, is being established in Johannesburg to deliver advanced ICT training to meet local enterprise needs in South Africa.
The Academy is known for offering one of the world's first international undergraduate online BSc degree programmes in integrated digital technology, digital business and digital design. Its BSc (Honours) in Digital Technology, Design and Innovation is now accepting registrations in South Africa for the next one-year course, which starts in October this year. Up to 50 students from South Africa will be accepted into the course, which blends online eLearning and virtual team-working with local project team workshops and global peer groups. They will be joined by international participants from countries including the UK, Ireland and Mexico.
CEO Paul Dunne says this format is proving highly effective for working professionals who must continually upskill in line with changing technologies and market demands, but who may not have time available to attend classes daily.
By delivering the learning experience online, and supporting virtual collaboration, Digital Skills enables students to get the best of after-hours flexibility and personal interaction with their teams. Dunne notes that research by IBM found that companies using eLearning strategies can boost productivity by up to 50%, while the Research Institute of America has found that eLearning is not just cost and time-efficient; it also increases information retention rates by up to 60%.
"We conducted extensive local research before launching in South Africa and identified a need for local ICT professionals to access effective ongoing professional development in a format that works within their time constraints. This need for advanced ICT training extends beyond ICT professionals – we have found that sales and marketing professionals, entrepreneurs and business managers working in the ICT field also had an unmet need for further education and training," he says.
With an estimated ICT skills shortage of between 30,000 and 70,000 professionals in South Africa and many ICT professions on the National Scarce Skills list, private sector partners struggling to attract and retain high level ICT skills can also collaborate with Digital Skillsto develop innovation projects and simultaneously upskill their employees and address their specific ICT skills shortfalls.
FIND OUR MORE ABOUT OUR INTERNATIONAL DEGREE PROGRAMME
Digital Skills has also launched its International Industry Partner Programme in South Africa, to assist in closing the soft skills and experiential skills gaps in the country's IT sector. This programme, which includes top international companies such as Oracle, Ernst & Young, O2 and BT, enables industry leaders to participate in closing these skills gaps.
Course participants work on Industry Partner projects throughout their degree programmes, allowing them to graduate as work-ready job candidates equipped with real world experience and the soft skills often lacking in IT graduates. These partnerships give Industry Partners the opportunity to invest their CSI funding in areas that benefit the sector they operate in, as well as allowing them to identify and audition potential talent for their businesses, while also providing an innovation pipeline for new digital products and services.