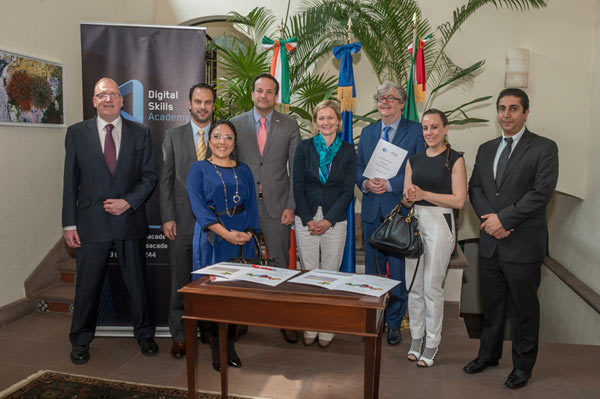 In order to strengthen technological innovation and the development of talent, Ciudad Creativa Digital (CCD) and Digital Skills, a leading international institute of higher education and training in digital technologies, signed a collaboration agreement in the framework of the 40th anniversary of diplomatic relations Mexico – Ireland.
The purpose of cooperation with CCD and is to provide scholarships to Digital Skills One-year Part-time BSc (Bachelor of Science) Degree programmes to participants of CCD. This will increase their current and future job choices through technological skills development combined with the highest-quality internationally-recognised European university qualifications.
Digital Skills, a global online education and certification technology training institution, seeks with this agreement to cooperate with partners from industry and leading organizations in Mexico to develop an incentive scheme aimed at individuals and businesses involved in the digital CCD education programs.
According to Paul Dunne, Founder and CEO of Digital Skills, the signing of this agreement "will help participants get the professional digital skills and knowledge demanded by the current market, which will support them to become part of global companies with which the Academy works through its Industry Partner Programme."
For his part the President of the trust Creative Digital City, Lic. Mauricio Navarro Garate said that "for City Creative Digital the cornerstone is the conviction that talent of Mexicans is inexhaustible, particularly Jalisco is fertile in creators, in Guadalajara, there are currently more than 7,000 students enrolled in programs related to the creative industries.
We are confident that strong track record of Digital Skills will succeed in pushing the limits of the creativity of young people to generate new and innovative content that will be marketed in the world. Creative Digital City is a space to learn, create, and share.
Especially we would like to thank the Ambassador of Mexico to Ireland, Carlos García of Alba and the General Director of Promexico, Francisco N. González", he said.
During the signing of the agreement the Government of Ireland and the Minister of Health, Dr. Leo Varadkar, who is visiting Mexico as part of the celebration of bilateral relationships; the Ambassador of Ireland, Sonja Hyland; Lic. Mauricio Navarro Garete, President of the trust Creative Digital City; as well as the Founder and CEO of Digital Skills, Paul Dunne, were present.