Digital Skills has added Bank of Ireland to its continually expanding global list of Industry Partners.
Bank of Ireland was keen to work with Digital Skills on emerging technologies, such as Virtual Reality, Augmented Reality and Voice Recognition, that are likely to be central to the customer experience of the future. Bank of Ireland, which currently employs around 12,000 people in Ireland, leveraged the creativity and expertise of participants on the Digital Skills International BSc Degree programmes. These participants, who brought diverse perspectives from multiple countries, conducted comprehensive research into the potential of Virtual Reality, Augmented Reality and Voice Recognition for mobile banking apps.
"Bank of Ireland is always looking for new and innovative ways to provide our customers with a faster, simpler and more engaging banking experience," says Tony Burns, Head of Web Development at Bank of Ireland. "When assessing new technologies, however, there are always lessons to be learned. So we were delighted to have this opportunity to partner with Digital Skills and conduct a programme of research into the potential of VR and AR in the commercial banking space. We have implemented a number of consumer initiatives such as Skype mortgage advisors, facilitating a more convenient way of communicating with us. Our research with Digital Skills allowed us to investigate the potential for other, more advanced technology."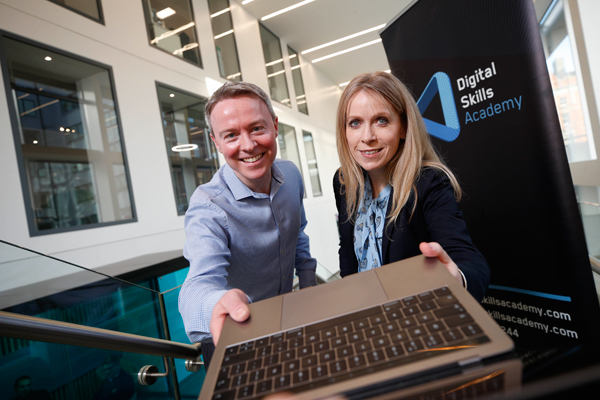 Participants enrolled on Digital Skills programmes address many varied digital projects for Industry Partners. These include website and app development, digital marketing campaigns, software development and process digitisation.
"Alongside having the proud heritage of being the oldest bank in continuous operation in the country, Bank of Ireland clearly has its sights firmly set on the future," says Paul Dunne, CEO and Founder of Digital Skills. "This research-based project was an ideal way for participants in our international programmes to gain valuable experience. Meanwhile, the Digital team at Bank of Ireland was able to assess several challenges surrounding the potential roles Virtual Reality, Augmented Reality and Voice Recognition might play in the future banking landscape. That's why Industry Partnerships, like this partnership between Bank of Ireland and Digital Skills, are so important in finding solutions as our world becomes increasingly digitised."