It's often difficult within a corporate structure to advance projects, especially when the projects involve new skills not readily available in house. The slow process of securing sponsorship and concept approvals from management, negotiating budget issues, competing for existing resources — when faced with these obstacles, even the best of ideas are often sidelined or dismissed all together.
The process of taking a project from concept to completion is challenging enough, and digital projects carry additional complexities. An overall resistance to anything new, department silos, and general technology illiteracy and lack of understanding for the digital deployment process can bring progress to a crawl. And in a 24/7 digital marketplace where companies are in a constant race to deliver tools and content as quickly as possible, time to market is extremely valuable.
Additionally, when you consider that every step of the digital transformation requires some level of design, coding, development, and even a basic level of digital skills for daily operation and maintenance, companies are faced with the very real challenge of hiring and retaining people with the right digital and technical skills.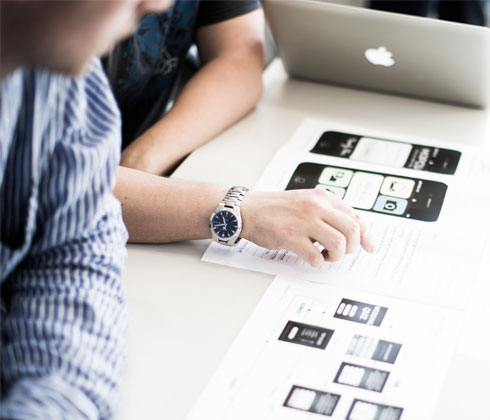 Management teams need a way to address the digital skills gap that exists within their organization. As cloud services, mobile apps and the Internet of Things (IoT) continue to transform most every aspect of our lives, consumers are increasingly relying on digital tools as their primary interface to the companies with which they do business.
At Digital Skills, our programmes necessitate significant industry engagement. All our participants are required to work on industry-assigned projects for building meaningful real-world experience. In order to assure we're able to provide our students with relevant and challenging experience, we build relationships with leading industry partners to provide a flow of projects. It is through these two relationships—that of Corporate Client and Industry Partner—that we address an organisation's digital skills gap.
Hear from UPC on their Industry Partner experience
This is a unique aspect of the Digital Skills programme. Our Industry Partners are provided with cross-functional project teams of participants from our degree programmes. This allows our partners to identify and recruit digital talent within these project teams and have innovative digital products and services developed by these teams.
Our programme is an excellent opportunity for industry partners to gain access to a project team with an enthusiastic outlook, technology literacy, digital skills — and most importantly — a team outside of the internal obstacles and constraints as outlined above.
We do not charge a fee for participation in our Industry Partner Programme. This allows the Industry Partner to innovate outside of existing corporate approval structures and budgets. We work closely with our Industry Partners to maximize the CSR (Corporate Social Responsibility) and CSI (Corporate Social Investment) gains made through publicizing their partnership and support for a major digital skills development initiative.
This unique approach allows our industry partners to contribute to the development of their own digital-innovation pipeline over the longer term. All projects are undertaken by a cross-functional team, typically including project managers, business analysts, application developers, product managers and digital marketers, and UX (User Experience) Designers. All intellectual property rights in the project belongs to the Industry Partner, and all projects are covered by Non-Disclosure Agreements.
Typical projects include:
Apps for Mobile and IoT Devices
Website Services
Software Development
Prototype Development
Solutions Design and Process Design
Digital Marketing and Social Media Campaigns
If you're interested in becoming a Digital Skills Academy Industry Partner, and leveraging the skills and talent of our participants to help you close your digital skills gap, visit our Industry Partner page here.